5 Best Proposal Automation Software: Streamlining Your Sales Process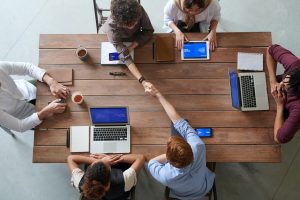 It takes an average of 32 hours for companies to write responses to requests for proposals (RFPs). The whole process can take up to 20 days, especially for large companies, and this can impact your hit rates for new projects or clients.
Typically, the process involves outlining the scope, drafting proposals, collaborating with other departments, creating estimates, and adhering to timelines. It's mostly manual, and companies have to do it all over again for the next project.
Instead, automation can help simplify the process of creating proposals while ensuring accuracy and consistency. In this case, you'll need to invest in the best proposal automation software to create proposals and manage the entire process for effective collaboration.
What's Proposal Automation Software?
Proposal automation software is a computer program or digital solution that automates the process of generating proposals. It eliminates manual and repetitive tasks to speed up the process while ensuring professional and personalized proposal designs.
The software manages the whole process and stores proposals and RFPs for future reference. It offers a simple interface for building proposals from templates and allows teams to collaborate effectively, reducing the time and frustration it takes to generate winning proposals.
Features to Consider When Choosing Proposal Automation Software
Finding a software solution that works for your business and is easy to implement is essential to your everyday operations. Proposal programs are different — they have varying integrated features and capabilities, which are crucial to consider before settling on any solution.
Here are the key features a good solution must have:
Integrations

: Centralizing your proposal generation operations is vital. Integrations keep everything in sync and organized for seamless operations. So, ensure the software supports integrations with your CRM, file storage systems, invoicing systems, contract management tools, etc.

E-Signatures

: Technology has redefined nearly everything, including how people sign documents. The software should allow you and your clients to e-sign proposals, as traditional signatures are time-consuming and counter-productive.

Templates

: While you can create your templates, the software must also offer ready-made templates, which you can easily edit or re-design. Having a variety of templates makes it easy to create professional proposals for different clients.

User roles

: Apart from onboarding your team, you should be able to define each member's role and responsibilities, such as editing, sharing, creating, commenting, etc. Such granular control over actions and permissions improves collaboration and streamlines your workflows.

Document management

: The software should allow you to create, send, and share files in different formats like doc, PDF, HTML, and RTF. Plus, you should be able to archive, tag, and save proposals using smart filters for future reference.

Proposal analytics

: A good solution offers insights into your documents and operations. For example, you should know the number of people that have opened your proposals and the amount of time they spent on different sections. These insights will help in improving your overall customer experience.

Data security

: Proposals hold a lot of company and client information, including names, contact details, pricing, payment details, etc. Clients trust you with their sensitive data, so you need to safeguard it. Therefore, it's vital to pick a solution that guarantees the security of your data.
Depending on your workflows, you should consider features like payment support, storage, communication tools, and multi-tier approval. This is ideal for small businesses that don't want to invest in other tools for storage, communication, collaboration, etc.
5 Best Proposal Automation Software   
When considering implementing proposal software, it's vital to know your options. You can opt for either a small business solution or enterprise software. Small business systems offer standard features like workflows and templates, while enterprise solutions are complex.
This section will cover the five best proposal management solutions for sales process optimization.
1. Docmo
If you prefer working in the Microsoft environment, Docmo is the ideal solution for creating proposals. Docmo uses decision-making AI to generate proposals in Word, .pdf, and Outlook. It's a no-code solution, so coding is unnecessary during implementation or use.
It offers different features, including unlimited templates, unlimited users, local file imports, live chat in-workbook, app integrations, reporting, and API connectors. Docmo also allows you to re-design templates, set user-group permissions, and send emails.
With Docmo, you simply need to install it on your computer, create your templates, and use Excel to generate your proposals. This means you don't need new apps, and your data never leaves your Microsoft environment, offering a seamless experience to document generation.
Docmo allows you to connect to multiple data sources, including Excel, Word, databases, and web apps, without using any code. You can produce a package of proposals, each with custom charts for a personalized design and improved sales results.
2. Jotform
Jotform is an online form builder that supports different forms, including proposals. You can use it for free, but you're limited to only five documents. Instead, you'll need to upgrade to either Bronze, Silver, Gold, or Enterprise to create more than 25 forms, costing $34 to $99 per month.
The tool supports over 100 integrations for form submissions to email, storage apps, CRMs, and other solutions. It also supports payments directly through your forms, allowing clients to make payments efficiently.
Other features Jotform offers include themes, widgets, a PDF editor, multiple users, e-signature, teams, approvals, etc. These features are accessible based on your plan, but the Enterprise plan offers access to all features, including unlimited form limit.
3. PandaDoc
PandaDoc is a document automation platform that allows you to create different documents. It offers a free plan, but if you need more features and increased limits, go for the Essentials and Business plans. Still, you can opt for the Enterprise plan for more capabilities and integrations.
The tool offers different features depending on your plan, including e-signatures, payments, templates, analytics, document editor, custom branding, notary, content library, etc. Other features like API, bulk send, and forms are priced individually.
PandaDoc allows you to create, send, and e-sign personalized proposals. It offers pre-built templates, customizable formatting, a content library, e-signature functionality, and CRM integration to simplify the process.
4. Better Proposals  
Better Proposals also makes a great document automation solution, and it's designed to help with proposals, quotes, contracts, agreements, brochures, info sheets, etc. It offers a 14-day trial, allowing you to test it before picking your desired plan.
Once you're ready to subscribe, you can opt for the Starter, Premium, or Enterprise plan, ranging from $19 to $49 per user per month. The Starter plan limits you to 5 documents per month, while the Enterprise plan allows unlimited documents.
Depending on your plan, Better Proposals offers different features like e-signatures, payment support, templates, integrations, custom domain, Zapier, content library, etc. It also supports real-time notifications, analytics, and custom fonts.
5. Proposify
Proposify is an online proposal software designed to help sales teams to streamline their processes and get better viability into their sales cycles. The company also offers a team of in-house designers to help with proposal designs.
The tool only offers two plans: Team Plan and Business Plan. The Team Plan is $49 per user per month and has a free trial. If you have a team of 10 or more members, the Business Plan is ideal, but you'll need to contact support for pricing.
Both plans allow you to create unlimited proposals with custom fields, variables, and forms. Depending on your plan, Proposify has various features like a content library, custom domain, e-signatures, approval workflows, payments, templates, integrations, etc.
Benefits of Using Proposal Automation Software
Implementing a proposal software solution to your business offers several benefits beyond streamlining and automating your processes. Here is what you're likely to experience after implementing the software.
Increased Efficiency and Productivity
Proposal automation software eliminates manual tasks, such as data entry and traditional signature, saving your team lots of valuable time and reducing effort by up to 90%. Plus, you don't need to create templates from scratch every time.
For example, Docmo allows you to create a 20-page proposal in 120 seconds, complete with custom charts and images for a stunning appeal. Such efficiency can boost your productivity, allowing your team to focus on improving your customer experience.
Improved Accuracy and Consistency
Manual processes involve sharing information via calls, emails, spreadsheets, etc., increasing the chances of inaccuracy and inconsistency. Automation centralizes your operation, ensuring optimal organization and clarity.
Most software solutions have a library to keep your content tagged, categorized, and updated. Plus, no data leaves the platform, and they support on-platform collaboration to ensure quality and accurate proposals.
Increased Ability to Close Deals Faster 
Teams that use proposal automation software have an average of 45% win rate. For one thing, the software allows you to respond to RFPs faster, increasing the chances of clients shortlisting your proposals.
It also allows you to create visually-appealing proposals that prospects will want to read through. Basically, by adding branded design, video, images, and live messages to your proposals, you can improve your ability to close deals faster.
Improved Collaboration and Communication
Proposal software solutions centralize all your processes and operations, making it easy for teams to collaborate and communicate. Some feature communication tools like chats and comments, allowing collaboration on a document.
Also, you can integrate communication and collaboration tools like Zoom and Slack to keep everything organized. Real-time notifications allow you to stay up-to-date on the progress and status of every proposal.
FAQ's   
What should I consider when selecting proposal automation software?
When picking proposal software, it's vital to consider security, integrations, automation, content library, collaboration capabilities, pricing, scalability, and templates. Take the time to compare features and pricing to ensure you pick a solution that offers value and works for you.
Are there any drawbacks to using proposal automation software? 
Proposal software solutions are designed to make processes easier, faster, and more effective. Drawbacks only happen due to poor implementation, lack of team training, and undefined workflows. So, it's vital to pick a solution that's easy to use and implement.
Pick the Ideal Proposal Automation Software
As businesses embrace digital transformation, it's vital to consider all areas that can benefit from new technologies, including proposal generation and workflows. Automation can improve your sales processes, save time, and boost your win rate.
So, finding a proposal software solution that delivers a streamlined sales process and supports integration with CRM and other tools is essential. More importantly, it must offer analytics and customizable proposal templates to ensure efficiency and productivity.
At Docmo, we offer a platform-agnostic solution that suits any business size. Our solution supports 100% document governance while delivering conditional formatting, reactive workflows, content management, filesystem automation, and multi-source connectivity.
Contact us today to learn how our solution can streamline and automate your proposal generation.